Damp Proofing - Rising Damp Specialist Solutions Dudley
It is important to make sure that all damp proof course work you contract to have undertaken on your home is guaranteed and future proofed. Not only do we source our courses from numerous branded suppliers, but our industry certifications and associations also provides you with the peace of mind that our works have full recognition of the banks, mortgage lenders and other bodies who may have an interest on your home should you be moving on. 
Find our more about Damp Proofing >>
Other services we can help with in Dudley are:
Woodworm treatments, Timber repair and Cellar Conversions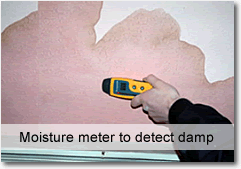 How do I know if I have a problem with Rising Damp?
The Salt Water deposits associated with Damp, or Rising damp will always be found at the top of your damp problem. The distribution of these deposits usually  provide a good indication of where the ground water ingress problems stem from. Deposits naturally form in the salt like state, where absorption of water has stopped rising.
Need Help with Damp or Dry & Wet Rot in Dudley?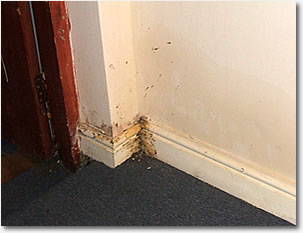 Some types of rot can be caused by something as simple as condensation which if left unattended will over time allow harmless spores to germinate into more damaging fungi. Infection of your home can be a creeping malaise and our experts will be on hand to help you spot the signs and protect your home in future. Find out more about Dry & Wet Rot here