Rising Damp Proofing Specialists Wolverhampton
Wet & Dry Rot Timber Treatment Solutions
Other services we can help with in Wolverhampton are:
Condensation control, Timber repair and Cellar conversions
CALL 01902 581099 for more advice and information.
Our Damp Proofing services in Wolverhampton extend beyond simple reparation or intervention work. For a full no obligation consultation on repairs to damage by rising damp or for details of both new and manual damp proofing, simply give us a call.
Triton, Safeguard, Permaguard, Biokil Crown are just some of the top brands we are able to install on your premises. Ensuring full impartiality in our choice of 'fit for purpose' products has played a key role in building our reputation and more importantly in the successful completion of correctly installed Damp Proof Courses in the home. All our installations come with full guarantee and are recognised by the leading authorities and institutions you need them to be.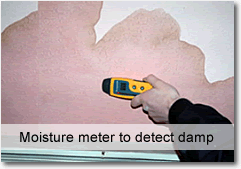 What exactly is Rising Damp?
A damp proof course is necessary in order to prevent ground water from rising up through the walls of your property. Capillarity is the term used to describe how water which can naturally lie beneath a building is able to travel upwards by means of gradual saturation of masonry. When saturation is complete and the rising water has reached saturation point where it can travel no further, salty deposits will form on the brick work denoting the level to which rising damp has penetrated the structure of your property.
Find out more about Rising Damp & Damp Proofing here >>
Can we help with a Woodworm problem in Wolverhampton?
We can help both commercial and residential building woodworm problems. Read more >>
Getting rid of Wet & Dry Rot problems at premises in Wolverhampton
Unless you are an expert you cannot be expected to differentiate between mould caused by wet or dry rot, there are sub cultures of both strains so qualified help is always advisable to determine the best solution to your problem.
Our qualified surveyors will first and foremost establish the cause of rot within your home and guide you in ways to prevent future bouts of damaging fungi from returning. A swift and effective chemical treatment will usually eradicate most dry rot problems, however in severe cases some walls or timbers may be beyond repair and therefore need replacing.