Rising Damp Proofing Services
Dry&Wet Rot Solutions West Bromwich
Other services we can help with in West Bromwich are:
Woodworm treatments, Timber repair and Cellar conversions
If you have need of a damp proofing expert in West Brom or simply require a West Bromwich damp proof surveyor to inspect a suspected case of Rising Damp, then please do not hesitate to give Prestige Preservation a call.
Find out more about Damp Proofing here >>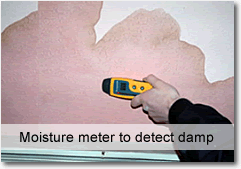 How do I know if I have a problem with Rising Damp?
The Salt Water deposits associated with Damp, or Rising damp will always be found at the top of your damp problem. The distribution of these deposits usually provide a good indication of where the ground water ingress problems stem from. Deposits naturally form in the salt like state, where absorption of water has stopped rising.
Need Help with Damp or Dry & Wet Rot in West Bromwich?
Our Qualified technicians will not only address your issue and ensure that an effective treatment is applied to wipe out any fungi which may be infesting your home, but they will also advise you of any preventative steps you can take to avoid the causes of rot such as issues around ventilation or rising damp.