Damp Proofing Services in Sutton Coldfield
Specialist Dry & Wet Rot Timber Treatments
No job is too big or too small for our Damp Proofing surveyors based in Sutton Coldfield. If your home or premises are suffering from issues with rising damp, then we are on call today to provide you with best in class Trust Mark certified advice along with a free consultation.
Other services we can help with are:
Woodworm treatments, Timber repair and Cellar Conversions in Sutton Coldfield
Find out more about Damp Proofing here >>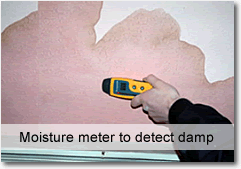 Will A Damp Proof Course Keep your home free from Rising Damp?
'Capillarity' is the process by which water can rise through permeable matter. All brickwork is permeable to different extents and therefore susceptible to ground water rising through it's porous membranes. A damp proof course is necessary to stop rising damp should ground water exist below your property.
Damp Proofing Surveyors in Sutton Coldfield & Advice on Dry or Wet Rot
Some causes of rot are not as easy to spot as others, so whilst we will only be too pleased to relieve you of any fungi and rot your home may be suffering from, we'll also gladly advise you of any treatments, prevention and simple measures which are readily available to help you guard against the return of unwanted and damaging house guests.