Telford Damp Proofing Services
Dry & Wet Rot Timber Treatment Specialists
Other services we can help with in Telford are:
Woodworm treatments, Timber repair and Cellar Conversions
Because we are not tied to any one manufacturer of damp proofing products, our trained installation team will be able to provide you with a wide range of solutions to your damp proofing needs. Moreover, our industry accreditations are recognised by banks and lenders country wide, so you needn't worry about passing any of our guarantees over to new owners should you have plans to make a move.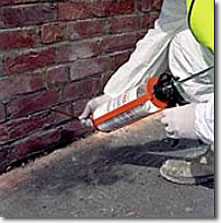 How do you know if you have Rising Damp Problems?
Neither condensation or rain water damp problems will leave salt deposits on your brickwork. If you can clearly see white salts building on your exposed masonry within or on the exterior of your home, then it is more than likely that you have an issue with rising damp. Caused by the absorption of ground water which travels up through the walls of your property, rising damp can be arrested with a damp proof course. Early diagnosis by a specialist is recommended.
Find out more about Damp Proofing here >>

Some other Damp related problems we can help Telford property owners with
Dry or wet Rot problems can make your home or rooms within your home inhabitable, so it is first of all important to work out just which type of infection you are dealing with.