Rising Damp & Proofing – Wet & Dry Rot Solutions Kidderminster
It may only provide you with small comfort, but rest assured, your rising damp problem will not be the first we have encountered in the Kidderminster area. If you do find yourself in need of trained specialists approved by the Property Care Association and want the very best advice on treating or installing Damp Proofing, then Prestige Preservation are here to help.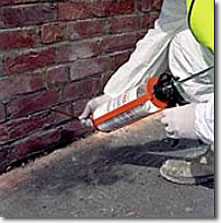 Whilst you may not be aware that some Damp Proofing companies are only able to sell from one product range, At Prestige Preservation we'd like you to know that we can offer you a choice of several. Rest assured that all of our qualified Damp Proof Course installers will select the best product for the job, not just the one 'we carry in stock'. All our work is guaranteed as you would expect, and we are approved by lenders, banks and authorities alike.
Rising Damp Explained
Rising Damp exists where water which lies in the ground beneath your property is allowed to penetrate your premises via the process of capillarity. The porous qualities of masonry mean that your walls will become increasingly saturated. Find out more about Rising Damp & Damp Proofing here >>
We can also assist Kidderminster home owners with Wet or Dry Rot
Dampness, water leaks and sometimes something as simple as humidity levels within the home can lead to wet or dry rot. Once our experts have rid your home of any current problems, they will of course advise you of the steps you might need to take such as controlling your home environment to keep it free from rot going forward.

Other services we can help with are:
Woodworm treatments in Kidderminster, Timber repair Kidderminster and Cellar Conversions in Kidderminster