Perry Barr Rising Damp Proofing – Wet & Dry Rot Solutions
Prestige Preservation have many years experience in dealing with problems of rising damp, including numerous works completed in and around the area of Perry Barr. Our trained experts approved by the Property Care Association can provide the very best impartial advice on the installation of a Damp Proof Course in order to keep your property free from potential issues with Rising Damp.
Find out more about Damp Proofing here >>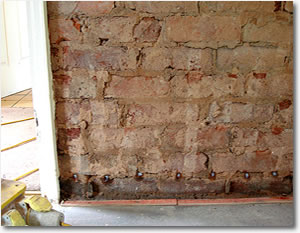 Will A Damp Proof Course Keep your home free from Rising Damp?
Without a Damp proof Course , rising damp may occur when water below your property permeates your premises through a process known as capillarity. Ground water may be raised through your walls via this upwards absorption process until they become totally saturated to a level where salt deposits will be found.

Damp Proofing Surveyors in Perry Barr & Advice on Dry or Wet Rot
Whether your home is suffering fom a dry or wet rot infection, it is critical to take steps to ensure you know just exactly what manifestation you are dealing with.
Other services we can help with are:
Woodworm treatments in Perry Barr , Timber repair Perry Barr and Cellar Conversions in Perry Barr