Prestige Preservation Damp Proofing & Timber Specialists
We treat dampness in walls, provide treatments for woodworm and much more.
The Company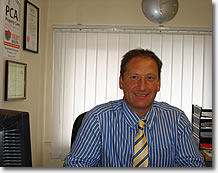 Prestige Preservation Ltd was formed over 27 years ago by Alan and Lee Alderman (see photo left), starting in a small way working within the region of Sandwell in the West Midlands. The goal at Prestige Preservation has been to focus on the remedial treatments to grow the business into the best remedial treatment company within the West Midlands region.
Attention to customer satisfaction & quality of our services has meant the business has now achieved this goal and has grown into one of the best remedial treatment companies in the area.
Read what our customers say >>
How We Work
Today Prestige Preservation is based in Kidderminster and is now a major contender within the Midlands, and covers all areas of the West Midlands, Worcestershire, Wolverhampton and Stafford. As the business is still family owned the same exacting standards apply to all our customers old and new. We are Full Contractor Members of the Property Care Association (PCA).
Read more about 'How we work' >>
Surveyors
Each area of the Midlands is covered by a qualified surveyor who specialises in your area and, therefore, has great knowledge of the properties within your vicinity. This as key factor when specifying works to your home.
Find out more about surveys >> or read about our latest team member & expert surveyor, Ian Loftus covering Worcester and the surrounding area

Our Customers
Prestige Preservation has clients from all market sectors which include first time buyers to major building contractors. We carry out works for private individuals, local authorities, housing associations, building contractors, landlords, estates agents, architects and surveyors to name a few, and are recommended time and time again.