Tamworth Rising Damp Proofing Services
Dry & Wet Rot Timber Solutions Treatment
Other services we can help with in Tamworth are:
Woodworm treatments, Timber repair and Cellar Conversions
As members of the Property Care Association you can be sure that our expertise in Damp Proofing work in the Tamworth area is second to none. For the best course of action required to solve your particular needs, be it proofing against rising damp or the making good of old works, then simply contact us directly.
Find out more about Damp Proofing here >>
Will A Damp Proof Course Keep my home free from Rising Damp?
Rising damp can permeate your home or building structures if they are not damp proofed. At Prestige Preservation we take every precaution to install the best solution to suit your needs. Whether we are making good a job which has fallen short or are installing a Damp Proof course for the first time, with over 9 different products to choose from, you can be sure that our job is certified and guaranteed to prevent rising damp from affecting your property.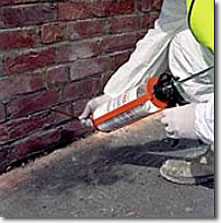 Damp Proofing Surveyors in Tamworth. & Advice on Dry or Wet Rot
Harmless spores which exist in every home can cause fungi to germinate and grow rapidly, so whichever strain of rot we identify, our trained staff will not only help you get rid of the problem but they will offer you help on keeping your home free from further attacks.