Rising Damp Proofing Specialists
Worcester
Dry & Wet Rot Solutions
Whether you need some repair work completing on your existing damp proofing or simply need the input of a Worcester damp proof specialist for preparatory works or new build projects, Prestige Preservation can help you.
Will A Damp Proof Course Keep your home free from Rising Damp?
Yes, is the simple answer. without a properly installed Damp Proof course, your property will always be susceptible to rising ground water. Just because your property has not been prone to rising damp, this does not mean that changes to ground conditions beneath your home or premises cannot occur at some stage. A damp proof course will insure your building against the possibility of rising damp. Find out more about Damp Proofing here >>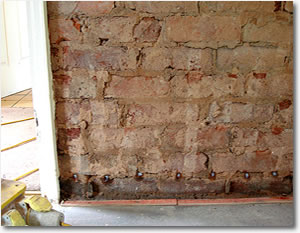 Damp Proofing Surveyors in Worcester & Advice on Dry or Wet Rot
If you are unsure whether you have a dry or wet rot problem then do not hesitate to contact Prestige Preservation, when we will arrange a suitable time for one our PCA approved experts to call on you.
Other services we can help with in Worcester are:
Woodworm treatments, Timber repair and Cellar Conversion
CALL 01905 631099 to book a survey or for more information