Stoke on Trent Rising Damp Proofing - Wet & Dry Rot Solutions
Need some damp proofing work completed in Stoke-On-Trent, then why not give our Trust Mark Standard Surveying Service a call? Our experts are on hand to explain the methods, whether traditional or electronic, which can be used to protect your home from damp or rising damp issues.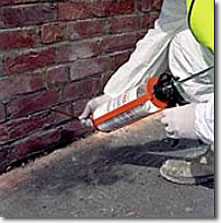 Damp Proof Courses and how they prevent Rising Damp
Rising Damp usually enters your property via a simple process known as Capillarity. Without a Damp Proof course, this process, will see the brickwork in your home absorbing natural ground water beneath your property which when saturated at lower levels continues to rise.
Find out more about Damp Proofing here >>

Wet Rot, Dry Rot and Damp Proofing Surveyors in Stoke-On-Trent
Some types of rot can be caused by something as simple as condensation which if left unattended will over time allow harmless spores to
germinate into more damaging fungi. Infection of your home can be a creeping malaise and our experts will be on hand to help you spot the signs and protect your home in future.
Find out more about Wet & Dry Rot here >>