Rising Damp Proofing Stratford Upon Avon & Dry Rot Solutions
Need Help from a Stratford Upon Avon Damp Proofing Specialist?
If your require some advice from a damp proofing expert in the Stratford Upon Avon area, then we'd strongly recommend you give one of our Trust Mark approved Surveyors a call. Our expertise in Damp Proofing is tried and tested plus we are able to provide you with a wide choice of solutions to suit your pocket and solve your specific needs. As an independent Damp Proofing Company, Prestige Preservation carry a range of market leading products, from names such as Triton, Safeguard, Permaguard and Biokil Crown, so you can always rest assured that your damp proofing work will be finished to the highest standard possible.
Other services we can help with are:
Woodworm treatments, Timber repair Sutton Coldfield and Cellar Conversions iin Stratford-upon-Avon
Why a Damp Proof Course is needed to prevent Rising Damp
Whenever excessive water exists under a structure such as your home it will always find a way to travel upwards via the infrastructure of your walls through a process known as 'capillarity'. As the brickwork becomes saturated at the foundations of your walls, water will start to rise until it is fully absorbed and it can travel no further. A damp proof course arrests this flow of water at source and protects your walls from degenerative damage caused by 'rising damp'.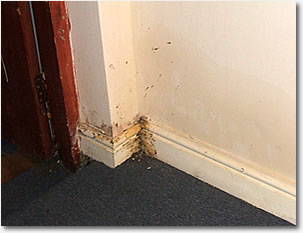 Wet & Dry Rot problems in Stratford-Upon-Avon. Where to get Advice
Extreme condensation issues can sometimes cause fungi which and is one of most commonly recognised manifestations of rot. To prevent spores from germinating into fungi, you may need a simple de-humidification solution, however there are many other causes of both wet and dry rot so it is always advisable to ask one of our experts who will soon get to the bottom of your problem.